art journal
a notebook kept by an artist as a personal record of images and sometimes words; also calledartist's journal
His art journal is a special place for recording and decoding his interior world— a place to download all his creative ideas, a place to remember the events of the day, or a place to doodle, to draw, and to dream.
The photos above are three different paintings from my art journal. For  me, art journalling is an experimentation and exploration of thoughts and techniques. It's about free-flow art-making that loosens up my creative muscles, leaving me free to express myself without fearing judgement, criticism or 'getting it right'.
I art journal because it feels good.
I love how art journalling gives me space to create uncensored.
How to begin.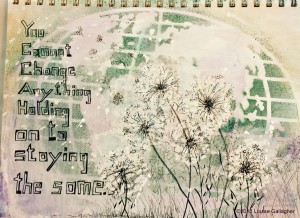 There is no right nor wrong way to begin to art journal. There is only the way you choose.
For me, art journalling begins with meditation. It begins with sinking into the quiet to hear my creative spirit, to connect to my artistic nature and commune with my expressive soul.
Sometimes I meditate in silence, sometimes I use a guided meditation I find on Youtube. One of my favourites is by my beautiful friend Kerry Parsons of The Essential U and a beautiful young singer/songwriter she works with, Amy Wood. We Are So Blessed never fails to connect me to my roots, my essence, my inner place of peace. It opens me up to creativity and possibility. It sets my spirits soaring and my creative soul free.
What you need.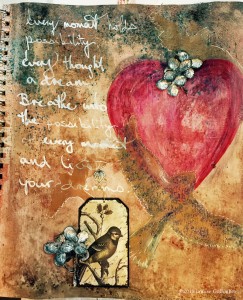 What you need most to begin art journalling is a willingness to explore and create. There aren't a lot of 'things' you need, no long list of art supplies mandatory to the process. Of course, it helps to be like me and have a studio full of options — but you can art journal with just a notebook, some glue, some magazine pages, pencils (coloured or not) and a whole lot of imagination and willingness to just be. Present. Attentive. Open to whatever calls your heart to create itself upon the blank page.
And… you can get as complex, or keep it as simple as you like. For me, gesso (to lay down on the blank page and make it more receptive to the paint) a few tubes of coloured acrylic paint, spray bottle with water, baby wipes, some coloured pens or markers, gel medium and pages torn out of magazines are what I use most.
After that, it's pure luxury to have all the other things I have in my studio to apply to the page.
Often, I create a page and then, photograph it, import it into PhotoShop Elements and add words to it. That way, I don't 'ruin' my creative efforts with the words — because my ability to print block letters and other lettering is not yet all that proficient, I am leery of writing right onto the page — mostly though, that's just fear of messing up my page, something I'm working hard to let go of because as I said in the beginning, there are no mistakes in art journalling.
In fact, Art Journalling works best when you work fearlessly on the page.
What to do.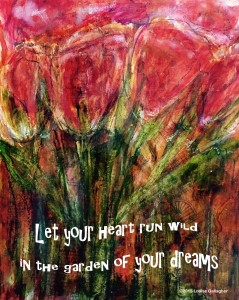 It's really pretty simple. Smear some gesso on your journal page (this helps the paint not sink into the paper and make it all soggy). Glue down some images using medium or gesso or plain old glue. Throw some paint at it to create a background. Smear it around. Spray some water. Use baby wipes to rub it in, or off. Throw down more paint. Draw some lines. Affix another image, or two. Draw an image using your markers. I tend to use a lot of stencils and spray paints to create texture and contrast. Let the page call to you. Let the images and colours you create guide you.
Sometimes, I go to Pinterest and find images I really like and use them as a guide to create a stencil which I then draw onto my page, paint in, outline with a dark marker… and all that jazz.
Sometimes, I make a stencil, cut out the image on some fancy paper, glue it down onto my page and then paint in and around, using my markers to outline it, draw lines on it… and all that jazz.
Begin Where You Are.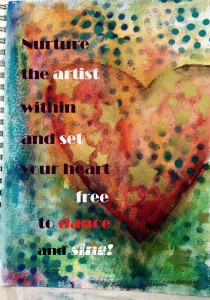 Like I said, there is no right nor wrong way to art journal. No right nor wrong place to begin. You must begin where you are at, be willing to risk feeling foolish, uncomfortable, out of your element.
And that's okay.
No one is looking over your shoulder. No one is telling you to do or not. You get to decide. What you do. How you do it. The important thing is to HAVE FUN!  PLAY! Experiment and let your creative spirit run free. Let your heart run wild so you can hear your soul calling you to express yourself however you wish!
It's just you and the page and whatever supplies you have on hand — and of course, the freeness of your imagination and your own willingness to simply be present and create.
NEXT ARTICLE:  Living a Creatively Enlivened Life
____________________________________________________
For a more in-depth journey into art journalling and poetry, download my workbook: Right Your Heart Out!